You Were Born
To Bloom Bold
Our mission is to accelerate empowerment of ambitious young people to bloom as bold self-leaders.
Keep up to date with the latest news.
BloomRadius, our self-leadership activity tracking app provides exclusive access to Consequential Flowers inclusive, private on-line community. The community is a protected, safe place for our members to go deeper into leadership topics to collaborate, ask questions, and learn from each other. BloomRadius hosts our World Wide Seeds Leadership lessons database that aligns with our proprietary leadership model.
We've created the Consequential Flowers digital community, where BloomRadius members may easily delve deeper into leadership topics anytime.
​
Our community provides a safe space to ask questions, learn, and grow. In accordance with our organization's core value of integrity and our Privacy Policy Data privacy across all of our properties is paramount. Data is used to personalize and improve the member experience.
BloomRadius
Self-tracking Leadership Activity App
BloomRadius is our proprietary web-based self-leadership development activity tracking app. BloomRadius empowers you with an easy, beautiful tool to plan, track, and visualize your self-leadership growth. BloomRadius helps you to make intentional self-leadership growth a life-long habit.
World Wide Seeds C-4IR Leadership Database
We believe that everything is the same thing and that what you learn in one area has direct application to your growth in other areas. Our proprietary evergreen and ever-growing database has an abundance of experiential self-leadership topics "Leadership Seeds" sourced from every area imaginable. It is easy to control and cultivate and your self-leadership development by planting Leadership Seeds into your private Garden Boxes.
About Consequential Flowers
Rooted in the intentional cultivation of next generation self-leaders.
We are an inclusive digital platform with a mission to accelerate empowerment of ambitious young people to bloom as bold self-leaders. To achieve our mission, we partner with highly diverse teams and innovate collaboratively.
​
Our approach to accelerate self-leadership growth includes development of digital platforms that provide a daily, habit-forming, intentional leadership practice. We concentrate on traits from our proprietary leadership model that are essential to thrive in this era and not traditionally taught in school.
Representation of women in the C-suite is improving. With power, grace and efficiency, we must progress faster.
You Were Born
To Bloom Bold
BloomRadius, our web-based app, available for download on desktop and mobile devices, empowers you with a beautiful, intuitive tool to plan, track, and visualize self-leadership growth in areas that are not taught in school and essential to thriving in life.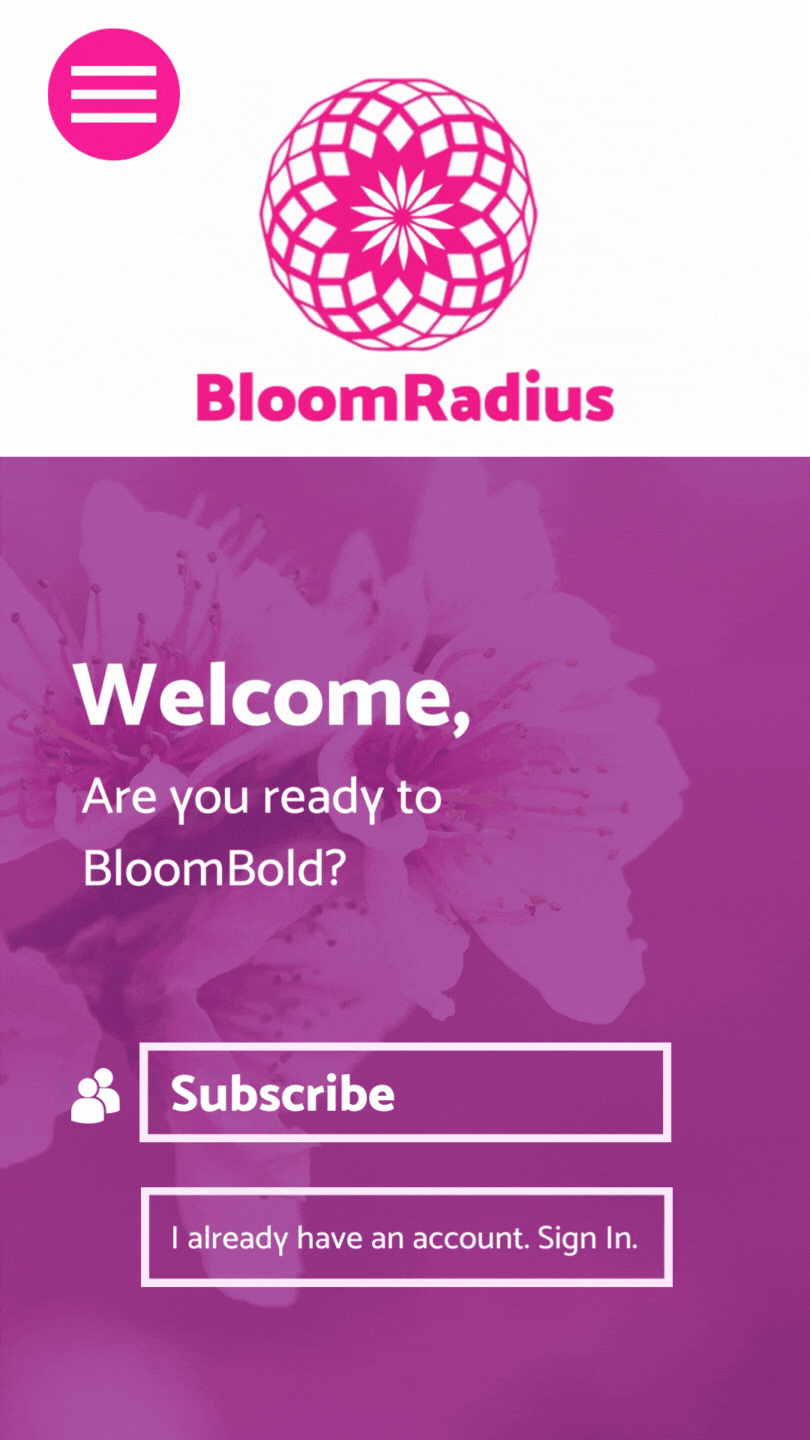 "

To reach the summit, one must proceed from encampment to encampment. But before setting out for the next refuge, one must prepare those coming after to occupy the place one is leaving. Only after having prepared them can one go on up. That is why, before setting out for a new refuge, we had to go back down in order to pass on our knowledge to other seekers..."
― René Daumal, Mount Analogue